OneLife iD specialise in providing innovative, personal ID products that carry your choice of emergency, medical or contact information. Wearing or carrying a OneLife iD ICE (in case of emergency) product ensures immediate identification, medical alert, quick communication with your next-of-kin and peace of mind.
Our multi-function emergency, sports and medical ID product range includes ID Wristbands, Dog Tags, Key Rings, Stickers and ID Cards. This allows you to:
Select the personal ID product that carries the information you need and suits your lifestyle
Personalise the ID with your emergency, medical and contact information
Plus, all our IDs include the innovative OneLife iD personal online profile, to which you can add and update supplementary information, documents, images and links whenever you want.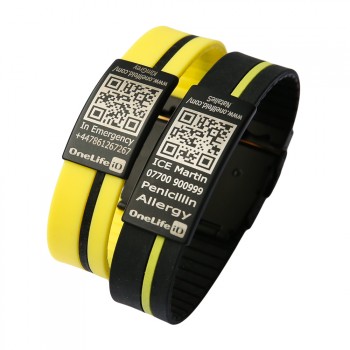 At Thinklaser we have worked with the Onelife team to ensure the marking of the products is as high quality as the product itself. Over a period of time we have developed automated facilities to ensure that data is correctly transferred to the laser markers in preparation for the marking sequence.