Our case study: 'The Engraved Gold Coin.'
At Thinklaser we believe experimenting with laser technology enhances the work we do for our clients and ourselves, as leading engineer's intent on redefining laser engraving, marking and cutting. Essentially by continually working with the machines we build and testing various materials with them we can expand our knowledge of laser technology, enabling us to provide better laser machinery and services for industrial and hobbyist uses.
If you are interested in learning more about how our laser marking services can help you, please visit our laser marking services page.
The idea:
We've recently been experimenting with how best to laser engrave Gold plated materials. The aim was to discover how deep the laser engraving should be to withstand the day to day abuse items of this nature would receive. Establishing how deep you would need to engrave the product to still see the image once Gold plated would provide us with a wealth of knowledge in laser engraving to suit this type of material better – an understanding that we could use to develop our laser chassis designs and laser services.
What we did:
To work on this idea we decided to use a Gold plated coin. The coin we used has a stainless steel base material and a 24ct Gold plating. Before laser gold plating the coin we laser engraved the words 'HEADS' and 'TAILS' on either side of the coin in several different languages using a laser with a 1064um wavelength (commonly referred to as a flash lamp Nd:YAG).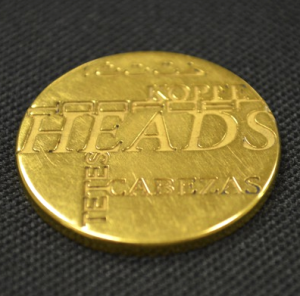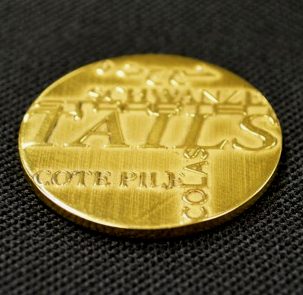 Our reasoning:
The reasons behind laser engraving the base material and then Gold plating it after stems from the fact Gold is a very problematic material for lasers to mark and engrave. Gold is very good at reflecting light, which effectively is energy and heat (commonly used for reflectors and high grade mirrors). Its ability at dissipating heat (energy), in turn makes in a hard to laser mark it. Essentially these are the worst attributes to have in a material you're trying to get laser marked; bottom line: it's 'tough to control the process'.
Processing;
The base material is processed differently on both sides before it is Gold plated, therefore the heads side becomes indented while the tails side engraving is slightly raised, meaning personal preference can come into play as the laser engraving is not restricted.
By highlighting the removal element more visually, defines the edge quality of the removal better and provides us with an insight into the different possibilities of laser marking and engraving with Gold plating.
Side note: to really investigate if this engraving process would withstand every day usage the Director of Thinklaser kept the coin in his pocket for almost a year, hence some of the marks that you can see. However, the actual engraving has clearly endured daily ruin, suggesting this type of  laser engraving on objects before Gold plating them has great potential.
Potential:
Potential for what you ask? Well, part of our possible online shopping plans is to produce unique one off products using laser technology in this way, as customisation is huge and gold plating is, or can be, attractive if done correctly (as we have proven with this case study).
Imagine coins like this that have:
Your child's footprint or hand print engraved on each side then gold plated.
Your children's of partner's names engraved on each side with a certain dates and then gold plated.
Thinklaser, the leaders of laser technology, hope to bring out these 'lucky charm' ideas in a similar format towards the end of the year. We hope this case study has provided you with a small insight into the work we do in developing laser technology and essentially how we have found it best to laser engrave a Gold plated coin. Find out more about our laser marking process here.