An exciting Client:
Sheena Bond is a Hampshire based ceramic designer maker, specialising in screen printing onto ceramic surfaces.
As an award winning member of the Society of Designer Craftsmen, she recently joined The Sorting Office Studios in Hampshire who offered Sheena the opportunity to run a fun and creative workshop activity for children as part of the Eastleigh Film Festival celebrations.
An exciting Project:
She teamed up with Thinklaser to develop the idea of merging plaster mould making with laser technology for the creative workshop.
The idea was to make 'Pieces of Eight' Spanish Doubloon treasure as part of a pirate day theme of events.
Here is the design for the treasure coins: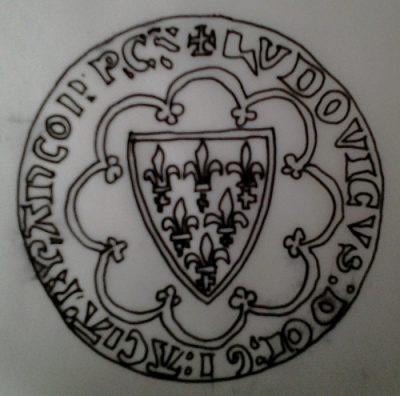 The coins could be done in a variety of ways.
One method was to use laser cut pieces of card as a basis for making plaster moulds, then press moulding.
Another method was to hand carve directly out of leatherhard clay, and then rolling clay into these.
Both methods create low relief imagery and text, as you would find on these type of coins.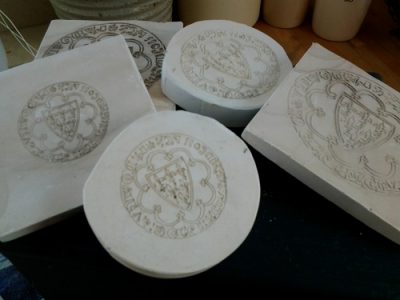 Sheena finds working with laser images really exciting, as the images are crisp and fresh and when used with clay can be kept pristine or further manipulated to look more rustic.  (Hand drawn images also work well, as do computer generated files using Adobe Illustrator.)
How the Children spent their pirate themed day:
They started off at 'The Swan Centre' having their faces painted
Then some photography in front of a pirate related backdrop image.
Then on to Sheena to make 'Pieces of Eight' Spanish Doubloon treasure! 
After which they went to 'The Point' to see The Pirates! In an Adventure with Scientists!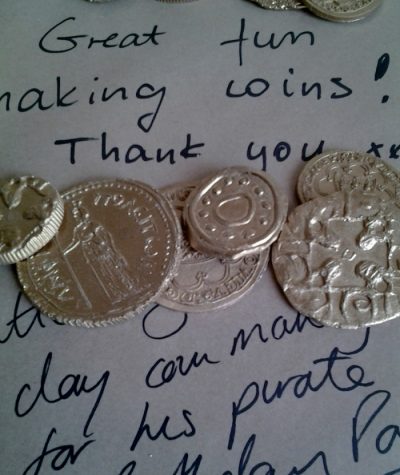 Why Sheena chose Thinklaser:
Sheena has worked with laser technology before.
Her degree piece 'Quantitative Easing' utilised both screen printing and laser cut card to create both print and low relief.  This piece was exhibited at The Society for Designer Craftsmen where she won an award for Excellence and a Distinction.  She exhibited it later in the year at Craft in the Bay in Cardiff where it was bought by a local art collector.
She graduated from The University for the Creative Arts (Farnham) a couple of years ago and continued to integrate laser cut designs into her work.  As an alumni of the University she had, until recently, access to the laser cutting facilities in house, but policies changed meaning it is no longer available to her.
She needed to research other alternatives and it was through this that she came across Thinklaser on the internet.
The results:
Thinklaser really enjoyed helping Sheena out to make this creative and exciting workshop possible and these comments from the pirate children and the pictures on twitter (see here) suggest it was a truly successful day for all involved.