Welcome to instalment 2 of our project to 3D print Individual Throttle Bodies (ITB's) and a mock valvetrain for our Cosworth YB cylinder head.
Since the last blog post, the head has been delivered to Malcom at Classic Components (http://classic-components.com) and is scheduled for a clean-up early next week. We'll put a video on our Youtube channel of both the AM build and the milling for those interested to see the difference between additive and subtractive manufacture.
In the meantime we have been busy with putting together the CAD files of the adapter plate and inlet runners. All the CAD models have been created on SolidWorks 2017, as we can then export as an STL. file to our slicing software, Simplify, for editing prior to print. 
The design thought process is that by printing the adapter plate and intake runners as one; we can either mount four compact ITB assemblies for a naturally aspirated (NA) set up, or, a large plenum chamber with single throttle body for a turbo set up later down the line.
We've run some simple pressure tests with Carbon PA vessels in the past, the material can handle pressures up to around 2 Bar before starting to leak. Something like annealed PEEK would be more resilient to high pressure, as the post print annealing process helps to align the crystalline structure of the material and further improves mechanical performance, so a 3D printed plenum chamber for lower boost applications is entirely realistic.
We aren't automotive experts by any stretch of the imagination, so if anyone has any thoughts on the effect that NA intake runners will have on a turbocharged setup please let us know.
Anyhow, here is how the assembly is looking at the moment: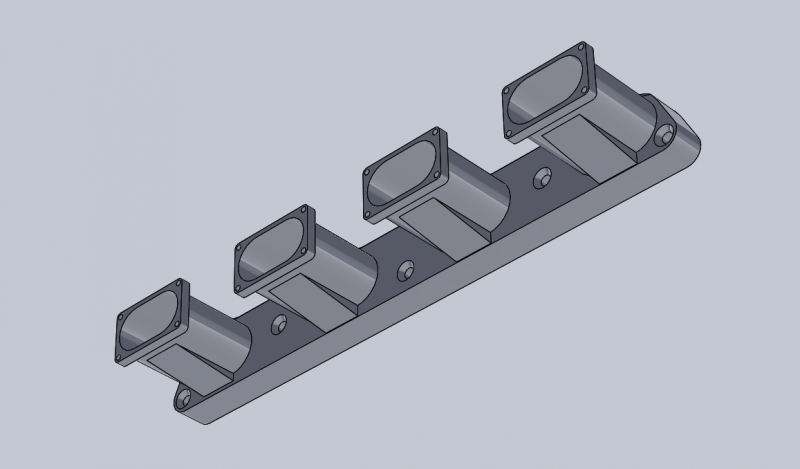 We have added a chamfer to the top of the adapter plate to clear the camshaft housing on the head as the intake ports are angled at around 30 degrees. We have also added gussets to the underside of the intake runners to add strength. We could potentially print the adapter plate thinner in order to clear the cam housing, but without access to Finite Element Analysis, we would rather make sure the adapter plate is solid enough to carry the weight of the butterflies, trumpets and fuel rail. Once the first iteration is complete we can take a look at fine tuning the design for a more elegant solution. 
In the meantime, the next stage of work will be to design the ITB butterflies that sit on the flanges at the end of each intake runner and will be linked to a common actuator. This means that the entire intake is controlled by just one motor rather than trying to synchronise a motor on each ITB.
We will then take a look at the trumpet (or stack) design and how to adapt the ITB butterfly assembly to accommodate screw in trumpets for flow testing.
If you have any questions about this project or our range of Roboze 3D printing systems or materials, please don't hesitate to get in touch on 01737 826902 or at [email protected]