Time for a slight change in pace with the Thinklaser blog, as we take a look at the other product ranges we supply and their production capabilities.
This time it's our Roboze range of industrial 3D printing systems and time for a little project to demonstrate the systems capabilities.
We have in our possession, a rough cast Cosworth cylinder head – I think it's a YB. Car fans amongst you will know this as the engine that powered the Ford Sierra RS Cosworth and Escort RS Cosworth to a numerous Group A victories in the late 80's and early 90's.
In competition spec the later engines would produce over 600 bhp. Spoiler alert – we aren't going to try that here.
What we are going to do is 3D print our own intake system and exhaust manifold and maybe take a look at flow testing them at a local engineering shop to see how they perform.
We'll also take a look at mocking up the valvetrain and fuel rails.
So, the plan over the next few blog posts looks something like this:
Send the rough casting off to Classic Components in East Grinsted for decking and a good tidy up, as currently it is a rough casting: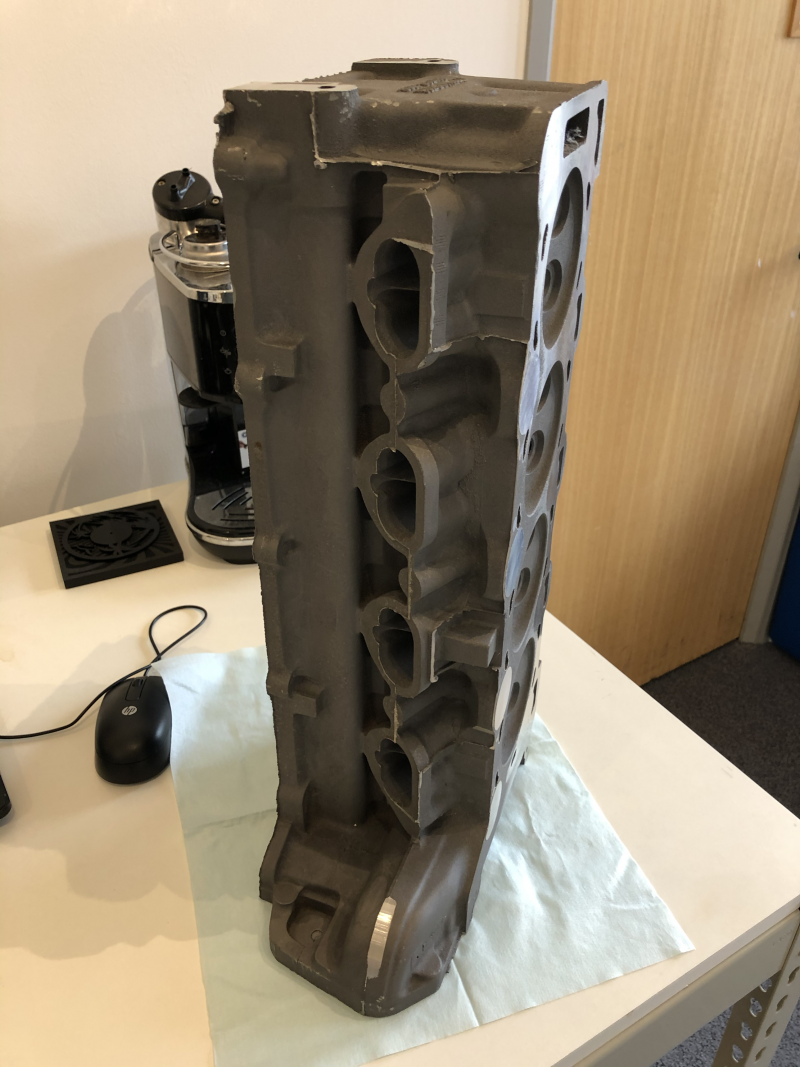 Measure up the inlet side of the head and draw the adaptor plate in CAD to mount to the head and hold the intake trumpets. We'll design the adaptor plate with threaded ports so that we can quickly swap between trumpet lengths and attempt to measure the difference in airflow (trumpet length can have an impact on engine peak power, power delivery and torque curves)
Print the adaptor plate in Carbon PA. 
Print a range of trumpet lengths and diameters.
Print our own throttle butterflies and linkages.
Assemble the intake system.
Print the valvetrain assembly (the cams will likely have to be printed in 2 halves as they will be too large for the One+400 Xtreme demo machine we have at Thinklaser)
Assemble the head
Stand back and marvel with tea and biscuits.
We'll be printing in Carbon PA, as it's great for rapid prototype of high strength functional parts. It's a very friendly material to print, which is great if we need several iterations to get it right. Roboze Carbon PA is a chopped strand carbon fibre filled poly-amide. The carbon fibre fill is 20%, which is considerably higher than most other Carbon Fibre filled polymers on the market, so its also extremely strong.
The material also retains it's strength at over 150 degrees centigrade, so it would be suitable for real world testing –  if your AIT's (Air Intake Temperatures) are that high, you've got bigger problems…..
If we were actually to print a set to go on the car permanently, we would likely use Carbon PEEK. It's a phenomenal material – it will easily take temperatures in excess of 250 degrees centigrade for long periods and it's highly resistant to chemical ingress.
Who know's – there's an old BMW lurking in the carpark, maybe that will be our next project…..
So that's the plan – hopefully you'll join us along the way as we showcase what the Roboze systems are capable of, learn a bit more about additive manufacture and hopefully push the boundaries a little.
If you have any questions about our range of Roboze 3D printing systems, please feel free to get in touch at [email protected] or call 01737 826902.