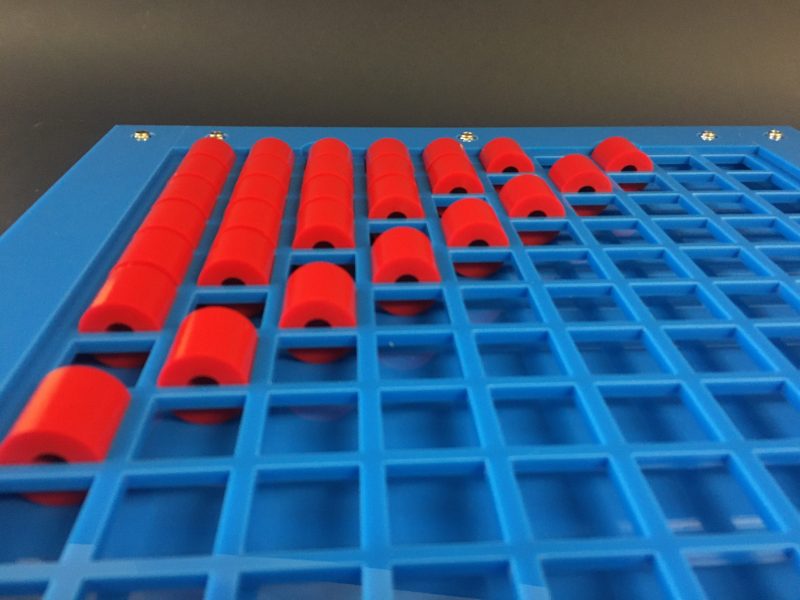 Do you have a large batch of components you need to serialise or mark with a logo?
Are you looking to cut lots of identical components with minimal material waste?
Do you want to increase thru-put, reduce machine downtime and maximise profit?
Sounds like a cheesy advert for snake oil or a silver bullet doesn't it?
But, in this edition of the Thinklaser Blog, we take a look at how our customers are using RDworks to create innovate ways of improving machine performance.
Let's start by clarifying the term machine downtime – in the world of industrial production, downtime – or Red light time, is referred to as time the machine is not in production. This means the time your machine is not making parts (money) and therefore costing you money.
There are a number of methods to monitor and improve machine uptime or "utilisation". One of my old customers even went as far as placing a 30 tonne punch behind his office wall so he hear every strike of the punch; the sound was like a shotgun going off 30 times a minute.
A better, (and certainly less aurally damaging) solution to improving uptime, is to map your production out in equal blocks of time and colour code each block to represent a process.
If we look at the simple example below, the time taken to mark 5 parts: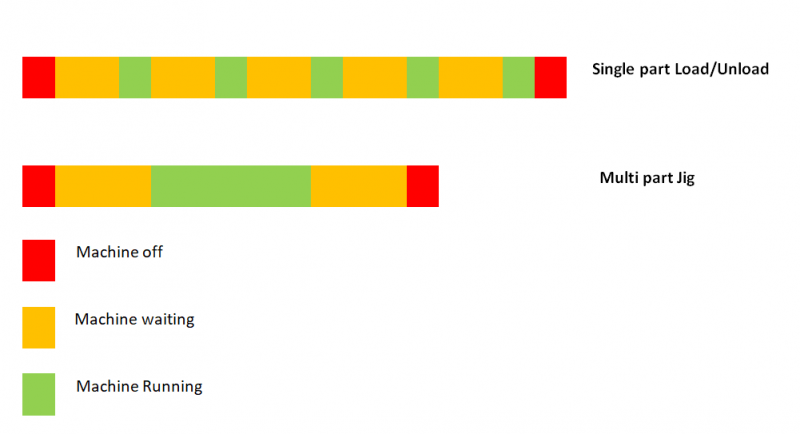 We can see the process time as a whole is reduced by around 25% by loading a multiple part jig once, rather than loading a single part 5 times. Even though the load and unload time is longer.
Using jigs can increase your productivity and repeatability by ensuring that the part location is correct every time and time taken to load per part is reduced.
One of our newest customers, Mansfield Board Machinery (http://www.mansfieldboard.co.uk), are now implementing jigs and the array function to serialise hundreds of components daily.
This process has been made simple by using the RDWorks array function – allowing Ian and the team at MBM to mass serialise parts rather than individually loading and unloading one part at a time, not only reducing operator strain but increasing efficiency and thru-put of parts.
During the machine purchase process, we discussed the option of two machines, a small desktop fibre laser to handle the metal parts and a CO2 Lightblade for the non- metal parts. This would have increased cost as it would have required two operators and taken up more floor space.
However by opting to go for Lightblade Dual Source, MBM are now able to serialise both metal and non-metal parts on the same platform and have driven a further saving by reducing the amount of floor space and number of operators required.
It's a nice example of how utilising the tools in RDworks can drive improved efficiency and reduce cost – not bad for software that cost's nothing!
So; how do you make the array function work for you?
Once again we turn to our tame Lightblade Super user, who explains in this video how to create an array for both marking and jig production.
Some say, he can reduce machine downtime by just thinking it. And, that he was due to announce his run for office this weekend, but felt like giving Kanye a sporting chance. All we know is he is called Russ…
As always a big thanks to Russ for all the hard work that goes into the production and filming of these videos. If you have any questions regarding building jigs on your machine or how to use the array function, the team at Thinklaser are always on hand to help, get in touch on info@thinklaser.com or give us a call on 01737 826902