Welcome back to our project to 3D print Individual Throttle Bodies (ITB's) and a mock valvetrain for our Cosworth YB Cylinder head.
What's new this week?
The CAD work continues. There have been some further modifications to the design of the adapter plate we pictured last week. The key change being the integration of an adaptor to change the inlet tract shape from oval (at the head) to round (at the throttle butterfly).
This is the beauty of AM; in order to do the same with traditional manufacture techniques, you would need to mill 3 separate components per cylinder (in this case 12, you'd need 36 for a V12!) and then weld them together.
This process is not only slow and expensive, as you need highly skilled people, machinery and complex jig tooling. There is also a risk of distorting the parts as they are welded together.
No such issues with AM, obviously there are some constraints to consider, but why print several separate components and assemble when a single part can be made? We can also add support and strength where we need it, and, remove weight in areas where it's not so critical.
All old arguments for the benefit of AM granted, however, it's a nice example of the real-world time saving on offer with this technology.
So; here's how the assembly (ITB's and Adapter plate) look at the moment. The next stage of design will likely be to fully integrate the ITB into the runner.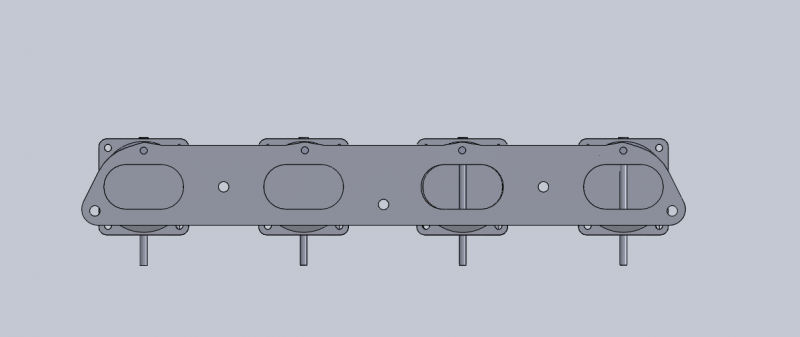 The reason we haven't, is that we want to print the ITB's separately to demonstrate the stability of the Roboze systems – even in a passive chamber, such as the One+400 Xtreme demo machine we have at Thinklaser, we can print fine tolerance parts to +/- 15 micron with no distortion.
Given the clearance between the throttle butterfly and the ITB inner bore is 0.2mm for a 50mm butterfly – it's a good test of the systems capabilities.
In other news, the head has been at Malcom's workshop (http://classic-components.com) for a thorough clean up. This should be back in the next week or so, Malcom has kindly filmed the clean-up process for us – keep an eye on our Youtube channel for updates.
There may also be a slight delay on the printing side as our demo machine is headed back to the factory in Bari for the latest round of upgrades, now standard on the One+400 Xtreme platform.
Keep an eye on the blog, as we'll go into more detail with these updates as soon as the machine is back.
In the meanwhile, if you have any questions regarding the machine ranges offered and supported by Thinklaser, please take a look at our Admatec and Roboze pages on our website or get in touch at [email protected] or call 01737 826902.